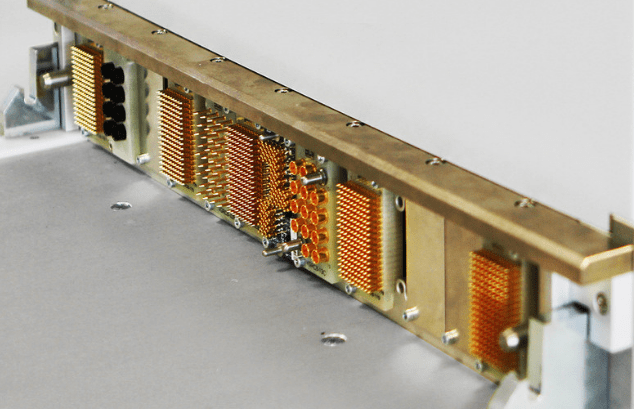 Pylon interfaces,
are one of the oldest Mass Interconnect interfaces that are still being used and widely available on the market for a very long time. At  the time they were developed as a reliable interface solution for (Genrad) ICT test systems, based on a standardised block with 170 Pylon or POGO test-probes on the tester side (Receiver) and a counter contact block inside each test fixture (ITA).
As over the years we moved to surface mount technology and more complex and compact digital boards we moved also more and more from In-Circuit to Functional test, Pylon has tried to keep up with the growing demands for more complex applications involving high power, coaxial, signal, pneumatic and fiber optic applications. Because of these needs many new blocks were developed by as many different companies and not always 100% compatible with the original Pylon design. But the biggest challenges today are new, high speed data demands with communication or graphical interfaces like Fire wire, USB3, USB-C, HDMI, VGA, Gigabit LAN, Display port, Lightning port etc. etc.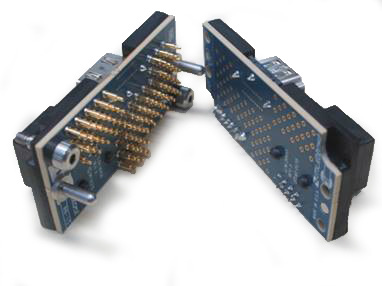 As Pylon technology originally was completely based on using spring loaded probes to form the contact between the two interface parts, there is a limit on how fast we can move data or analogue signals through these interface blocks. Spring loaded probes are in most cases made of minimal 3 separate parts, a plunger, spring and a barrel. These all have to make contact with each other. On top of those. the contact between the probe and its counter contact inside the Pylon interface needs to be established, this all adds up to 5 areas of contact than possible disturb the signal flowing freely trough these contacts. In time there will be contamination and wear off these contact area's, leading to corrosion and de-lamination of the gold plated surfaces, creating even more resistance inside the signal path.
This then leads to intermittent contacts and measurement failures that lead to false failures, unreliable tests and higher testing cost.
Stable Signal integrity should be the goal.
As we know from building modern test systems, signal integrity is difficult to maintain the more contact area's and the more cable length you introduce inside your test system the more possible signal interruptions you introduce. Especially in combination with High speed data this becomes quickly an issue. Therefore it makes sense to eliminate as much contact area's and cable length between the measurement instrumentation and the Mass Interconnect Interface in your test system and the actual UUT (Unit Under Test) that is connected to the ITA (Interchangeable Test Adapter or Test Fixture).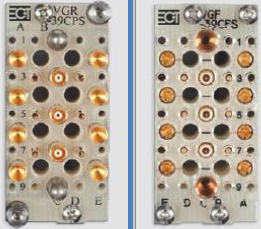 One great step forward in reliable interfacing therefore is replacing the Pylon test probe design for a pin and socket design in your Mass Interconnect Interface modules, moving away from the Pylon spring loaded probe technology. Therefore designers already use pin and socket solutions taken from more future proof Mass Interconnect Solutions to be used into the Pylon design for high power and high frequency applications for instance.
If you have standardised your cassette test fixtures or test systems using Pylon interfaces then it is time to reconsider your test system or test fixture design. As we know know that a pin and socket design for a mass interconnect system is the better and more reliable solution.
Important in that matter is that the connector modules, holding these pins, are specially designed for their task inside a Mass Interconnect interface. This means alignment and support of the contacts should be optimal and plating thickness should be more durable to meet the 50.000+ mating cycles these designs are guaranteed for.
Future Proof Mass Interconnect.
Virginia Panel Corporation is one of the leading manufacturers of such Mass Interconnect Interface solutions. Other than Pylon these modules are all based on a pin and socket design with an optimal alignment and minimal wear guaranteeing a very long life cycle without any degradation of the signal integrity.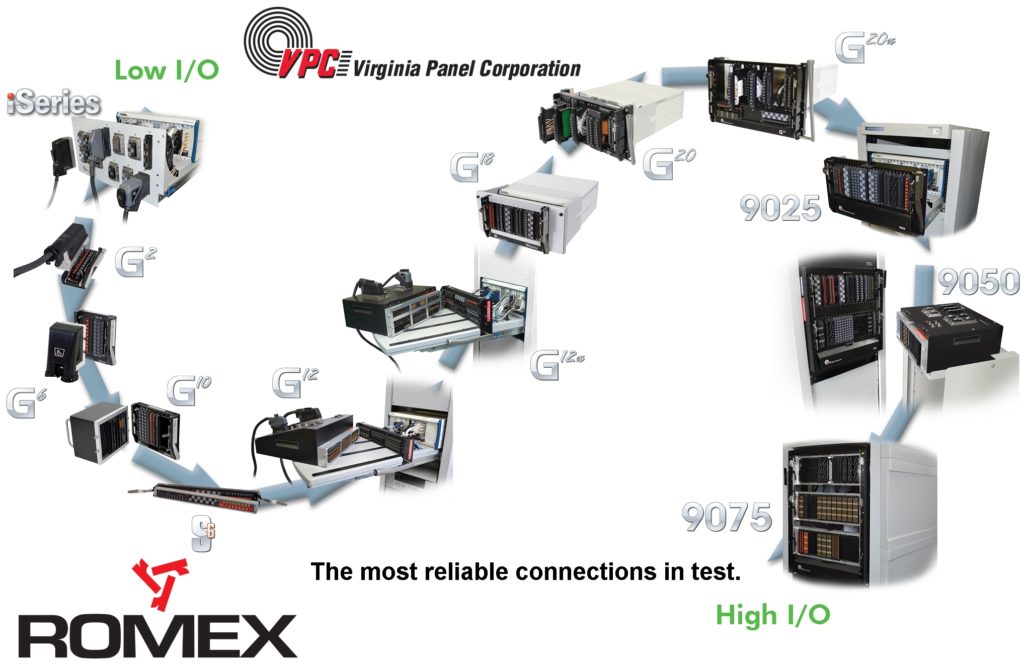 High Speed Data interface solution.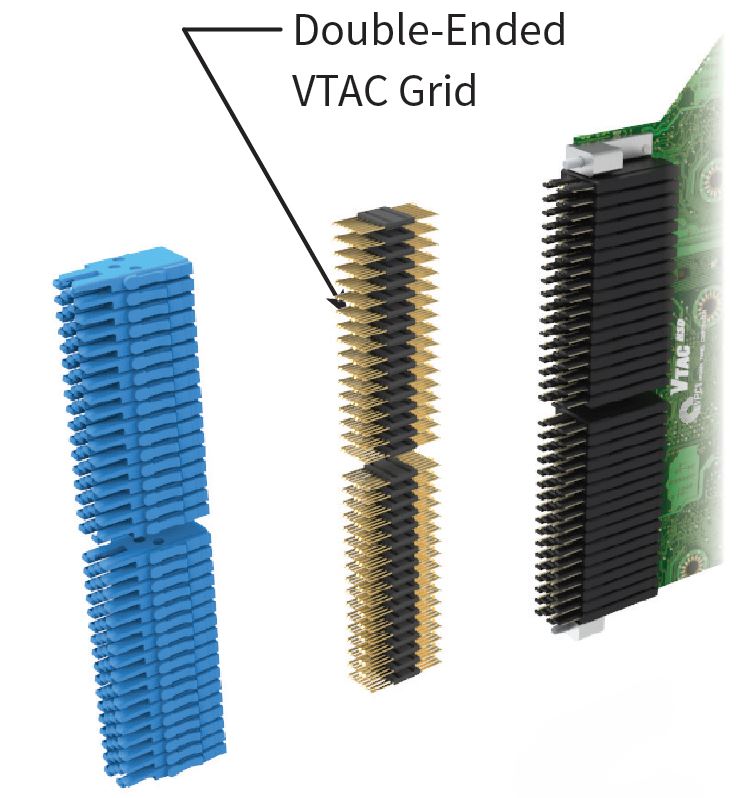 VTAC from VPC is the solution for High Speed Data transfer for data rates up to 12.5 Gigabit per second. This patented design has proven to be a very reliable and flexible solution for all kind of interface problems. As ready made plug and play patch cord, small PCB adapter modules or direct horizontal or vertical PCB solutions is VTAC the versatile solution for your choice of Mass Interconnect Interface for all your future test solutions.
If you already use a VPC Mass Interconnect interface solution then you can simply integrate or upgrade to VTAC in you existing 90 serie interface system and enjoy the simplicity of bringing High Speed applications into your test system.
VPC is specialised and leader in this demanding industry and offers their know how to all new and existing VPC users and customers. Romex has over 20 years of experience with VPC in the design and support of their solutions. If you need help or if you want to know more about what VTAC or Mass Interconnect in general can do for you, please contact us, we will be glad to help and assist you to find the best solution for your test system design. All the time new VTAC solutions are being developed, produced and integrated in test solutions all over the globe.
We did not forget about existing Pylon users.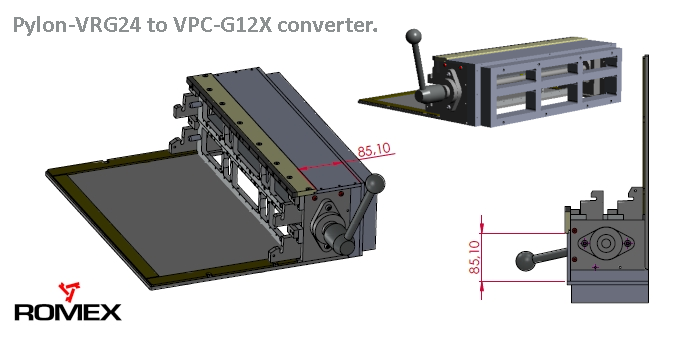 Romex did also understand that sometimes it is not possible to switch to another Mass interconnect interface system, especially if you have standardised on Pylon.
To help users, that have invested heavily in Pylon fixtures, to still use VPC Mass Interconnect on their new future test platforms, Romex has developed a converter that enables the use of all your existing ECT Pylon 12 or 24 block interface fixtures onto the VPC S6, G12, G12X or 9025TR rack or table mount interface systems. Contact Romex for more information.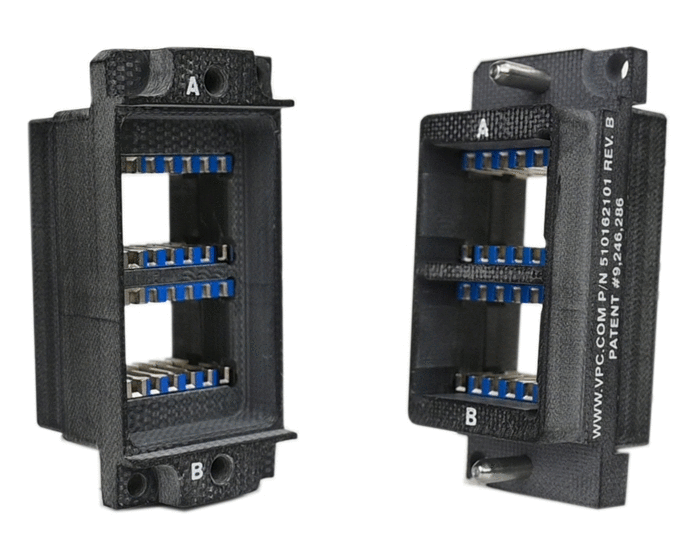 If you have a compelling reason to stick with your Pylon interface but you want to benefit from the VTAC technology, VPC also developed a Pylon receiver and ITA module that supports the VTAC technology. Keep in mind it has been developed to help existing Pylon users to benefit from the VTAC High Speed Data solutions for their existing test systems. We strongly recommend though, to first reconsider your test strategy and to investigate the benefits of a new Mass Interconnect Interface from VPC for your new future test solutions. Our specialists can help you make the best decision for your specific test demands.
---
IF you are interested to learn more about our services and solutions or want assistance in your development, please do not hesitate and let us know, fast and easy by submitting the contact form below or contact us trough Phone, Mail, social media etc.